SUGA BEARZ
Suga Bearz Apparel was developed in the San Francisco Bay Area by Founder/Creative Director Azizi Carter. Focusing on creating premium apparel displaying individual truth, reality and history with a dose of yolo! We believe that our customers desire fashion that is rooted in their lifestyle and reflects their individuality.
​Suga Bearz slogan is saying, "FUCK THE NEGATIVITY in every aspect of life, our surroundings, negative people, negative choices, negative thoughts and negative energy."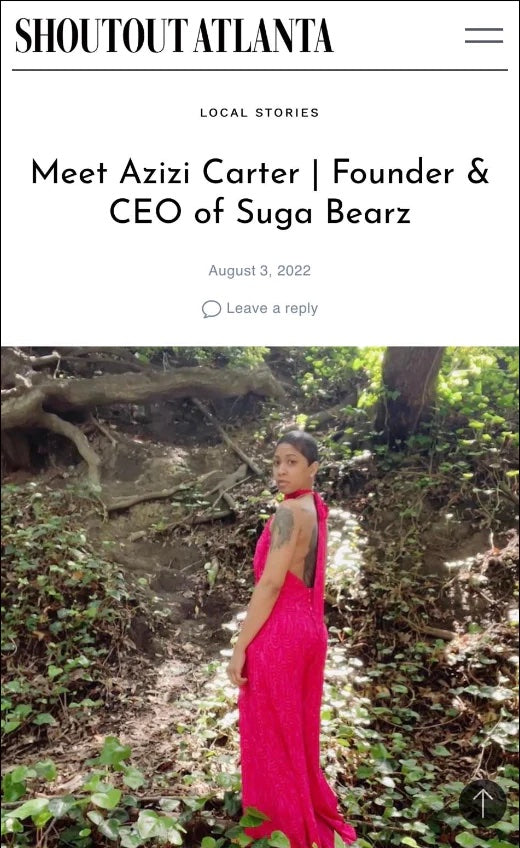 Interview with Founder/Creative Director
Azizi C. Founder of Prayz and Suga Bearz shares the story of creating these two brands. Her testimony and transformation. She openingly shares to provide hope to many. To tell others to never give up.
Prayz was created for everybody. People are striving everyday to be better than yesterday. We are all sinners but Sinners have Soul Too... we make mistakes, we learn from them, we battle, but we still believe and PRAY. People that give thanks everyday for just being blessed to see another day. Prayz was created for the truth in being HUMAN. For the truth in our Higher Power. Prayz was created to say thank you. God says, "For I know the plans I have for you," declares the LORD, "plans to prosper you and not to harm you, plans to give you hope and a future."  -Azizi Carter
ARTICLE in Shoutout ATL Magazine